Note: this post was written two years ago but I want to send it out today to honor the memory of my nephew and because I think we can all use the reminders to cherish our children and make the effort to extend our kindness to those suffering from loss.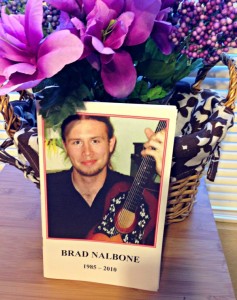 One year ago today my dear nephew Brad died. It was a terrible shock and loss and we all miss him.
Only 25, happy,  he was always ready with a joke or quip, and just ready to soar with his music, his psychology degree and volunteering.
It was a tragedy for him, his dad and mom, other relatives and the many, many lives that he touched.
I woke up in the wee hours, unable to sleep, thinking about Brad and the great loss.
I also thought about all the gifts he had given in his short sojourn here, and a gift he has given me in relating to my son now, since Brad is gone.
One of my favorite memories is a Christmas gathering, when the boys were teens. Well Brad was a teen and Dale not there yet, and it was one of the rare occasions Grandma Dot was visiting from New Jersey.
Brad was already into his music and either came with his guitar or picked up Pierre's and started performing. Not to be left out, Dale got out his sax and asked if they could improvise and play together. Brad was game, and they tried to play together. It was a bit bumpy at first -but quickly gelled as they found a rhythm and togetherness that they didn't often find since their personalities were so different.  Brad was 6 years older than Dale, and he was usually patient with Dale, but sometimes you could tell it got old.
As they were getting their groove, they noticed that Grandma Dot really wanted to be included. The boys brought Grandma Dot in on the piano and shakers. It was so great to see them connecting through music and silliness, and just going for it without worrying about the outcome. It was a gift.
In the last year, as people have asked me, often horrified, how I am coping with Dale's decision to drop out of college, to speak out, to live on his own, I realized that some of my peace with all that Dale does is due in part to what I learned from my brother and losing my nephew.
Acceptance.
Appreciation
Perspective.
My son is alive and well, happy and pursuing his dreams. He is trying to solve a problem in the world. He cares about people and is self-confident. How could I not be overjoyed and supportive?
So, in memory of Brad, please:
If you have children love them unconditionally and accept them and support them in following their dreams.
If you know someone who has lost a child, reach out, tell them something wonderful you remember about their child or their parental interaction. Listen if they want or need to talk. Send a photo or card with a memory. Share the pain for a moment, or gladden their hearts for a moment.
Smile, tell a joke, laugh, and pass it on.