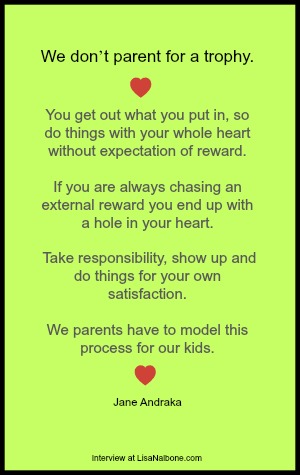 Jane Andraka is a warm, funny, down to earth, call-it-like -it -is kinda person. She is also the mom to two boys, Luke and Jack, who you may have seen in science competitions or the news. Her younger son Jack has had more recent airplay with his pancreatic cancer test and intel award. Luke has moved on from the competitions to an engineering program in a college with  an emphasis on team work and will graduate debt free.
The boys are products of public school. Jane said they had a short stint in private elementary until she realized the private schools in her area were academically way behind the public schools.
" They (private schools) were really like country clubs to keep kids away from people. I think exposing kids to diversity is really important. We have all kinds of people in this world. We are all human and we all make mistakes. Nobody is better than anyone else"
Jack moved to public school in 5th grade. He was behind in math so they took him to Kumon to catch up. They found a charter school with a focus on math and science and a program that Jane felt was really good for boys.  The school incorporated lots of frequent movement  along with the concentrated work which she thought really helped. She  thinks it makes sense to recognize how boys and girls can be different. She noted that in high school her boys supported trying to get more girls involved in science and math and understood that teams were stronger when they included both girls and boys.
 How did you have time for everything?
"Laughing what do you mean?  Geez,They get out of school around 2,  they don't go to bed until about 10 – that's at least 8 hours to DO Something with your kids, to be learning something. I asked them what they wanted to learn more about – what they wanted to do with themselves?We liked to tell our boys that problems are really opportunities in disguise. So what problems did they want to solve? And then we helped them as they figured out how they could work on those problems. Do projects together but have the kids take the lead. Ask them questions. Model the process of learning and doing" 
"They can go to school and learn how to deal with other people, different kinds of people, how to negotiate with their teachers and peers, how to not be disruptive and sit quietly and pay attention when something is boring (we all have meetings like that at sometime in our life.) They can learn how to meet expectations and negotiate about those expectations if needed. Heck there is a lot they can learn. But school is only, what 6 hours a day? Not every day.  The parent still has plenty of time to make a difference."
  I love Jane's message to parents:
 "Take Personal Responsibility! Stop blaming the schools, the teachers, the system, WHATEVER. Stop blaming and you take action. Stop doing only what is convenient.  You decided to have kids so step up. Kids are an inconvenience, that's the point. You are supposed to do what it takes to help them develop and reach their potential. Not someone else."
 If you haven't watched her TEDX talk, please do
I had no idea it was her first time doing any public speaking and she had very short notice about how much time she would have to speak. Wow!
 What did you do when you realized your kids were really bright ?
Jane thought her kids were pretty smart and so she got on the internet to look for resources. She found out there was a program not too far away,Johns Hopkins Center for Talented Youth http://cty.jhu.edu/ did testing, and had lots of opportunities. She thought it would be easier for the kids to qualify when they were really young and if they did, they would have more time to take advantage of the programs. So she had them tested as soon as they were able which was around 2nd grade.  She made sure the kids knew the test was no big deal.
"There was no drama around it, let's just take this and find out what we can. And then I had to slowly educate herself.It was great. They had summer programs that the kids would have a couple of weeks running around with other kids just like them and that was wonderful for them and me! Plus,  there were classed and pages with all kinds of resources like competitions and things the kids could work towards. The internet is so great – get on there and find the resources you and your kids need. And then get them there. "
 Jane, an anesthetist, works nights and her husband, an engineer, works days. They both needed to work and this is the way they decided they could have more time with the kids and be available for what the kids needed.
COMPETITION
Jane has a really refreshing and healthy attitude toward competition and working hard.
" I say enjoy the work. Enter the competition, but go there for fun and to learn, not to win. It is so great to meet the other kids and see their projects, you learn more about communicating and get feedback that can help you improve. But don't make the mistake of thinking the win and the judging is what is important. It is a one day thing and you have no control over the judge. Its never good if you let the competition outcome determine whether you feel good about what you have done or yourself. Whether science or sports or whatever, do things just because you love them not for the glory."
Jane advises,
" One project many competitions.  So you can take the same research and write an essay for an essay competition, or make a video, or, well there's lots of different ways to share what you have done. And then you are meeting more different kinds of people and learning how to present your work in different mediums. Its such a great way to decide what you want to learn and work on."
I really appreciated her approach and wish I had know her long ago. I avoided competitions for Dale because I don't handle competition well. She gave me some sound feedback:
Make sure you, the parent, focus on the joy of the learning and not the prize
Do what the child needs not what the parents prefer
Look for opportunities that focus on teams, presenting or feedback with less focus on competition for a child that needs a less stressful environment
Jane said her boys were different, one thrived with the stress of competition the other was less stress resistant. So they took different approaches in high school. Her older boy skipped AP classes to have more time to work on projects, and Jack took AP but approached it as a challenge to ace the class with the least amount of energy.
And Jane's parting words to the wise:
"I had the kids tell me what they wanted to do and why. I had them justify the plan they had. I wanted them to think through what they wanted to do and why it made sense. Kids brains are different and it makes sense that they should have different approaches. You have to find the right coaches or programs for your kid, whether its sports, arts or academics.  Ask yourself how you can help them develop and then google away. And then show up and support them."
Thank you, Jane for sharing your story. Any mistakes are all mine. I'd love to hear your thoughts in the comments and love it when you share the story.  Thanks Lisa.

And If you would like to read more about the Andraka family and their approach to parenting see:
 http://www.forbes.com/sites/johnnosta/2013/02/25/the-genius-of-raising-brilliant-kids/
http://www.smithsonianmag.com/science-nature/jack-andraka-the-teen-prodigy-of-pancreatic-cancer-135925809/