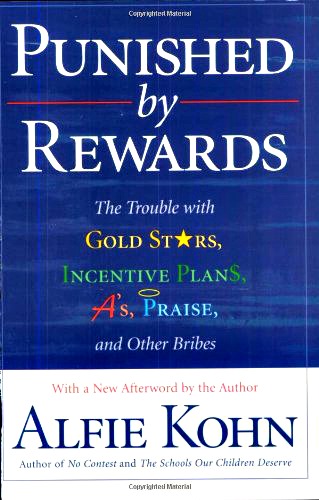 This book makes me want to get on a soapbox and shout: read this! Think!
I want us to take a look at how we use praise, rewards, power, control and coercion, even inadvertently, on a daily basis.
 I want us to have the courage to take steps to make changes that will truly help our children grow and learn.
I want it to be required reading for every parent, teacher and boss.
Kohn challenges us to question a pervasive mode of operating that many of us have come to accept as normal:
"My premise here is that rewarding people for compliance is not  'the way the world works'  as many insist. It is not a fundamental law of human nature. It is but one way of thinking and organizing our experience and dealing with others.  It may seem natural to us, but it actually reflects a particular ideology that can be questioned. I think it is long past time that we do so…" 
Kohn examines the underlying beliefs of behaviorism and the spread of these ideas across institutions and through society.  He looks at the implication of the use of rewards in the workplace, in schools and in the home. Continue reading →