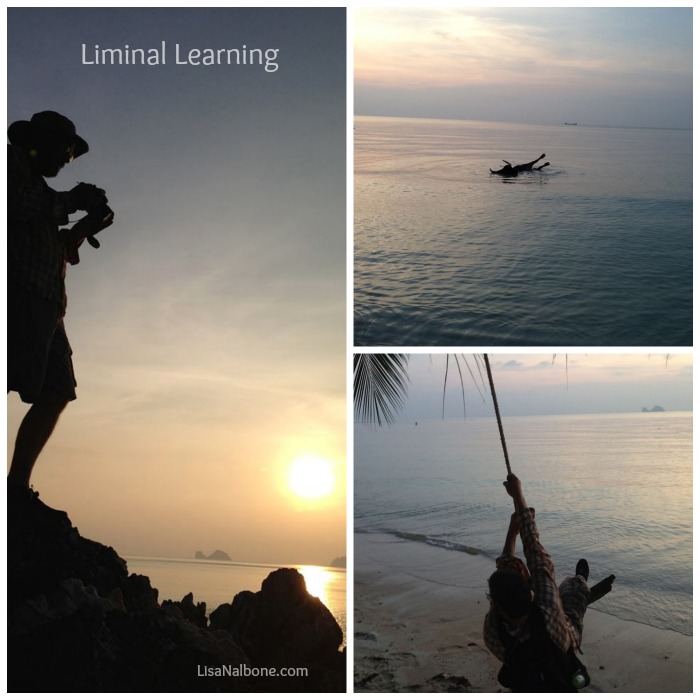 Oh I wish I could paint that scene from the  night in Thailand when we were out in the ocean and dusk was falling. There was 100% humidity and no horizon – no line between water and air, no distinction just an opalescent, blue-grey sheen fading into the distance as far as the eye could see.
The only interruptions in the color were the dark masses of the 5 islands, a bathing water buffalo and one small fishing skiff  being paddled kayak style into the distance. It was eerily blue and quiet, and I wondered how they could tell where they were, how far from shore, or how to get back.
It made me think about the liminal spaces in our learning and how we have to let ourselves become familiar and at ease with the discomfort of transitions and uncertainty.  We have to hang in there when we aren't sure where the edges are, or where we will end up.
It's interesting—the way in which one has to balance life—because you have to know when to let go and when to pull back…. There's always some liminal (as opposed to subliminal) space in between which is harder to inhabit because it never feels as safe as moving from one extreme to another.  Bell Hooks
It  felt as though we were suspended in time and space.
The water was so calm and the swells so gentle. It was low tide. Even though we were more than 100 yards from shore we could sit on the sandy bottom with our heads floating above the sea- like human otters with the tips of our heads bobbing above the swell.
I was feeling very relaxed and philosophical, reflecting on life, learning and the joys of travel. I glanced to the left to see a giant smile on my silent hubby as he bobbed beside me, looking for the horizon.
"Penny for your thoughts,"  I asked?
"Now this is my kind of swimming"  said  the man who was never able to pass First Aid Swimming 101 because he was unable to float.
"I can sit on the bottom, where I always end up, but still breathe and see!"
Happy learning to love the liminal space.