Are you unsure about homeschooling or unschooling your child or finding education optio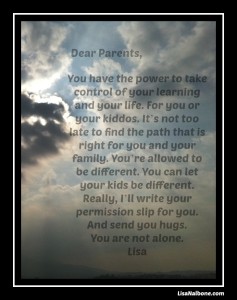 ns for your teen?
Are you worried about whether your child in school is happy, motivated and learning enough?
Do you wish you could do something about it?
You can!
You have the power to make choices and make changes to get the results you want.
We parents worry so much about whether we are doing the right thing!
Sometimes a little reassurance mixed with honest feedback, good ideas, and resources for moving ahead can make all the difference in the world.
I can offer my perspective and experience to help you find strategies and solutions to  make finding the right path for your family simpler and less stressful.
Reclaim learning. Start learning more joyfully, simply and successfully.
Get in touch!
Consultations:
Change your mindset. Get ideas, tools, and resources to take action.
Send me an email and tell me about your situation, and we can see if we are a good fit and what kind of package is right for you.
We can talk in person or via phone or skype. I accept payment via paypal.
After payment is received, we'll make an appointment.
I'll send you a questionnaire so I can prepare for our consultation. Sessions are approximately 45 minutes – one hour.
Let's find specific fruitful solutions for your family.     
A little  praise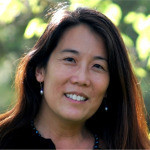 Lisa is grounded, wise and compassionate. She brings to the table broad background in public and unschooling education, community activism and self-sufficiency skills. Her ability to synthesize this experiential knowledge makes her an outstanding problem solver in a range of disciplines and life stages. I can recommend her wholeheartedly as someone who will make a difference.  Suzie, unschoolplus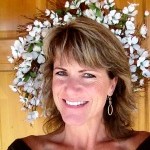 …When I decided to homeschool my daughter in the 6th grade I was overwhelmed by the task ahead of me. My daughter had special needs that the public school system didn't have the resources or expertise to address. I saw that Lisa was having a successful experience home schooling her son and I turned to her for advice and guidance. Lisa helped to steer me in the right direction through a continuous stream of creative ideas, resources and approaches. She's one of those rare individuals who's heart and soul is invested in the education process and she will not stop until she has exhausted every avenue to find a solution to a problem…She's made a huge difference in my children's lives. I recently watched my daughter receive her diploma and I think Lisa had a huge role in making that happen.    
Click here to see what  more  folks have to say about working with me.
Questions?  Ready to set up an appointment?
Email me at learningbeyondschool@gmail.com and let me know how I can help you.